Looking for an easy way to manage your inventory online?
Tracmor can help!
Tracmor is the perfect inventory management solution for those who need a quick, straightforward tool that you can use from anywhere. Our browser-based inventory software allows you to log in from anywhere with an internet connection. Check your inventory levels, learn when your critical components were lasted restocked, managed shipments, or inspect how many supplies are available on hand now to take out at the touch of a few buttons.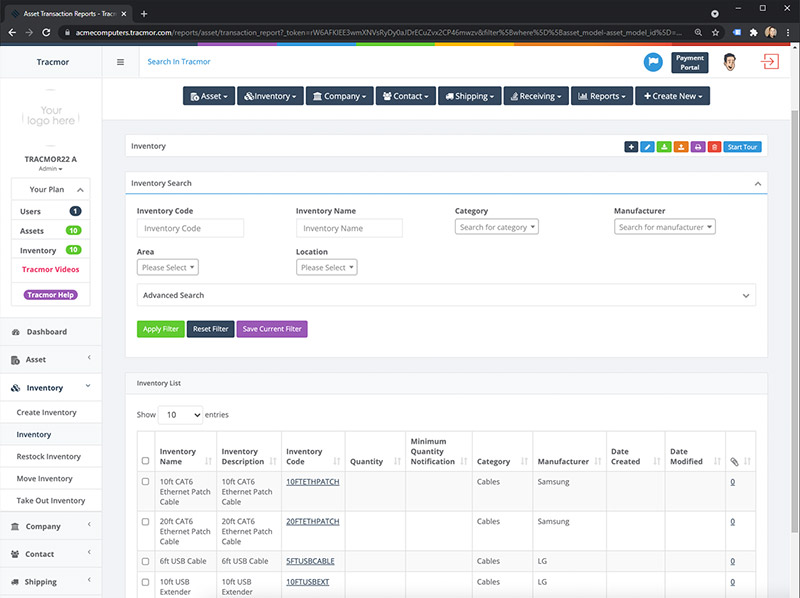 Tracmor Inventory Management Features:
Restock your inventory to increase the amount per location.

Take out inventory to reduce the amount per location.

Receive email notifications when you are low on stock at a location.

Search for available inventory by a variety of filters including the location, inventory model number, new custom fields you create, and more.

Save your commonly used search filters to save time later.

Move your inventory between locations in bulk.

Ship your inventory to contacts at other companies and keep records of your shipments.
Track the inventory quantity shipped and get email notifications when pending shipments are marked as completed.

Receive your inventory to each location and keep a transaction log of your incoming receipts as they arrive or schedule a new receipt for expected incoming arrivals.

Automatically logs all inventory management transactions such as restocks and take-outs performed by all Tracmor users at all locations.

Create areas to group your inventory locations together into sub-locations.

Assign permissions to users to limit access to certain locations for specifically authorized personnel based on the roles you assign.

Manage Inventory Levels of Your Consumable Supplies
Tracmor Inventory Management is the perfect online, cloud-based software solution for managing inventory levels of your consumable supplies for emergencies like bottles of water, first aid kits, medicines, clothes, batteries, flashlights, lighters, matches, hand sanitizers, disinfectant cleaning supplies, protective face masks, water purification tablets, MRE meal ready-to-eat, canned food rations, and other items by location.
Powerful Online Inventory Management
Select any subscription to begin your FREE trial. Signing up only takes about 5 minutes.