Tracmor | Asset Management Software

Are you looking for a simple and easy way to manage your assets online? Tracmor can help!
Tracmor is the perfect asset management solution for those who need a quick, straightforward tool that you can use from anywhere. Our browser-based inventory software allows you to log in from anywhere with an internet connection. Check your on your assets, learn when your critical components arrived, managed shipments, or inspect how many assets are available on hand now to use at the touch of a few buttons.
---
Tracmor Asset Management Features Currently Include:
Create assets in the system and assign them to a location with a unique asset tag number.

Check-out assets to specific people and assign due dates when they are expected to be returned for check-in.
Receive email notifications when assets are due back.
Audit your locations and receive a discrepancy report detailing any missing or extra assets discovered in each area.
Search for available assets by a variety of filters including the location, model number, new custom fields you create, and more.
Save your commonly used search filters to save time later.
Move your assets between locations with ease.
Ship your assets to contacts at other companies and keep records of your shipments.
Track the assets you ship and get email notifications when pending shipments are marked as completed.
Receive your asset shipments to each location and automatically keep a transaction log as they arrive or schedule a new receipt for expected incoming arrivals.
Automatically logs all asset management transactions to the asset history for reference later maintaining a complete audit trail history for each item.
Create areas to group your asset locations together into sub-locations.
Assign permissions to users to limit access to certain locations for specifically authorized personnel based on the roles you assign.
---
Managing laptops, desktop computers, cell phones, tablets, speakers, printers, routers, wireless access points, and other IT Equipment with Tracmor.

Tracmor Asset Management is the perfect online, cloud-based software solution for managing your IT equipment. Track your servers, workstation computers, VOIP phones, networking gear, peripherals, communication devices, and other items by location. Check out assets to other Tracmor users or contacts and assign a due date when the item is expected to be returned. Tracmor will automatically notify you by email when the due date is approaching.
---
Here are some sample screenshots we have prepared for you to review that show the 6 basic features you can use to easily manage your assets online with Tracmor.
Tracmor Asset Management Screenshot 1
Create New Asset Models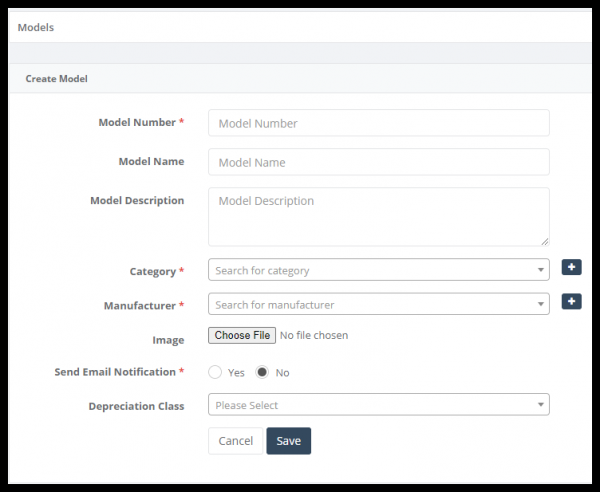 To begin create a new asset model by adding the model name, model number, description, category name, manufacturer, and any enter data for any custom fields you have created. You can specify an image for the model. You can also set up low quantity email notifications if you fall below a certain threshold of these items.
Tracmor Asset Management Screenshot 2
Create New Locations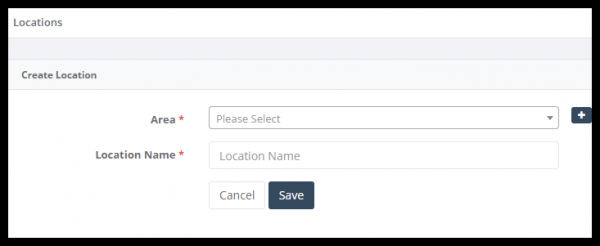 Next, create new locations to store your assets in. You can create as many locations as you need. Locations are grouped by area to help organize them better.
Tracmor Asset Management Screenshot 3
Create New Assets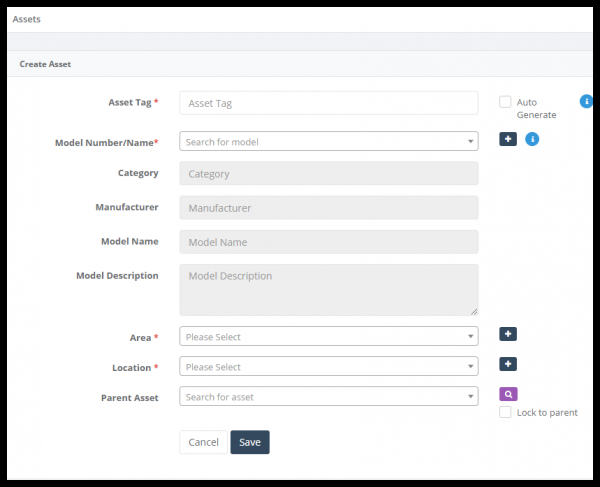 Now you can begin creating the assets themselves. Each asset is associated with a model, location, and unique asset tag number (sometimes the serial number) used to identify the asset in the system. You can assign a specific asset tag number to your asset or have Tracmor automatically assign the next number in the series.
Tracmor Asset Management Screenshot 4
Search for Assets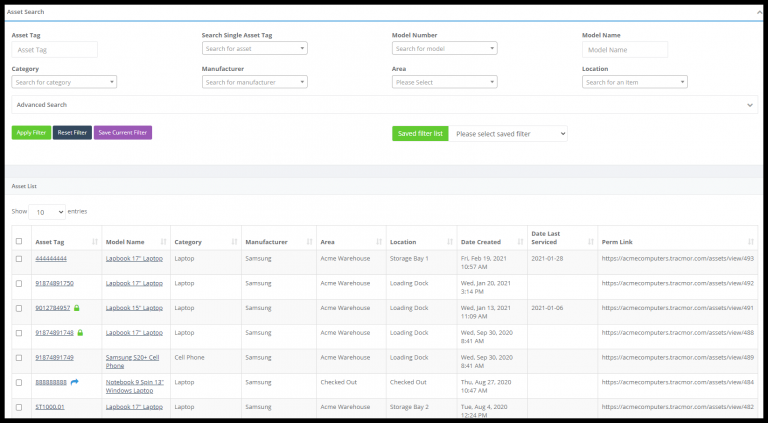 Once the assets have been entered into Tracmor you can use the search feature to "drill down" for assets for using a variety of different filters to narrow you results such as category, manufacturer, location, model, asset tag number, and more. Use the advanced search to find archived assets or search for assets that are currently checked out to another user. Tracmor can provide you with a list of all assets assigned to each user and their respective due dates when they are expected to be returned back for check in.
Tracmor Asset Management Screenshot 5
Shipping Assets (Part A)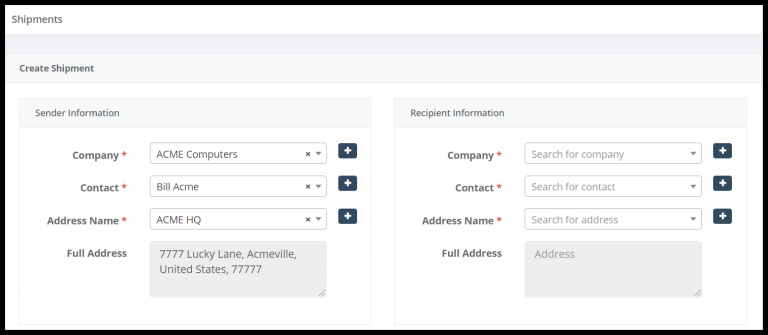 Select the sender and recipient to receive the shipment of assets and inventory.
Shipping Assets (Part B)

Add the courier and tracking number and Tracmor will automatically create a link to their website for shipment updates. Enter email addresses for anyone you would like to notify with shipping updates when an outgoing shipment is marked as completed on your side.
Shipping Assets (Part C)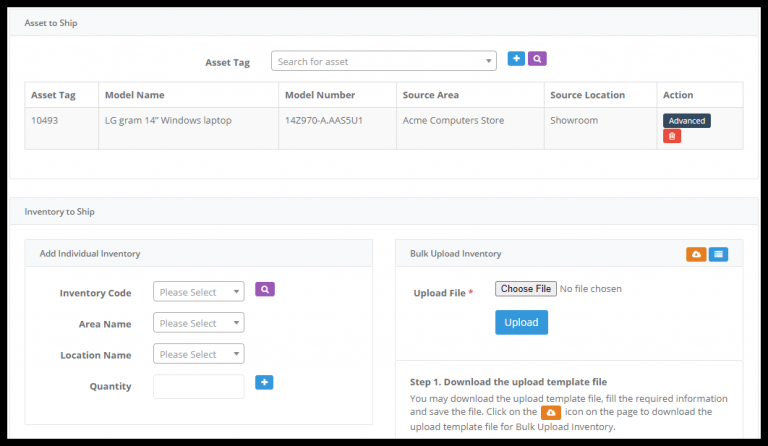 The last step of creating a new shipment is to add the assets and inventory that will be included. You can add assets using the asset tag number or by browsing for the asset using the magnifying glass icon. You can also scan a the bar code label with your scanner if you have one present or manually enter the asset tag number in.
.
Tracmor Asset Management Screenshot 6
Receiving Assets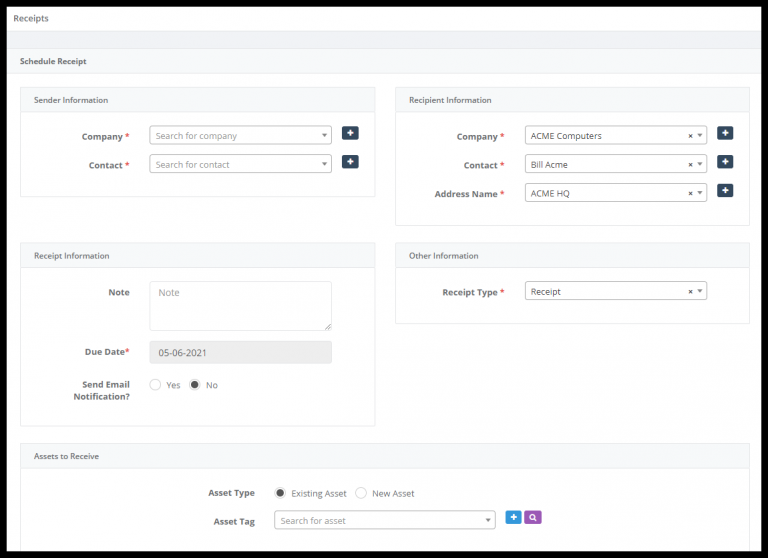 If you are expecting new assets or inventory to arrive at one of your locations soon you can also schedule a receipt to tracking incoming shipments. In this manner, all new assets can be entered into the Tracmor asset management system as part of your normal receiving process.
---
Still not ready to sign up for Tracmor just yet? No problem!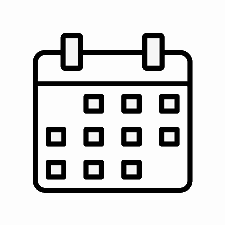 You can also schedule a conference call, sign up for a free trial or test-drive our online demo account.
---
See Also: Tracmor Inventory Management
Are you looking for a solution where items are tracked in bulk by quantity instead? We recommend you try the Tracmor Inventory Management feature instead where objects are tracked using quantity per location. A history of take and and restock transactions can be referenced for each inventory type. Note that the Tracmor Inventory Management feature is currently included free with all Tracmor Asset Management plans.

---
If you have misplaced your Tracmor login information please contact us for customer assistance.